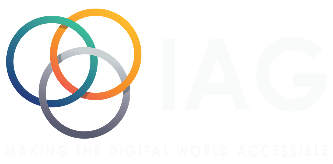 WE OFFER CERTIFIED COMPLIANCE FOR:
ADA, WCAG 2.1, WCAG 2.0, Section 508, EN 301549, AODA, CVAA, ATAG, UNE 139803:2012, RGAA 3, GDPR, JIS X 8341 and more.
FAILURE TO COMPLY MAY RESULT IN FINES AND PENALTIES BETWEEN $75,000 AND $150,000 FOR 1ST TIME OFFENSES.
Click for WIA Accessibility Guidance
IMPORTANT REGULATORY GUIDANCE:
ACCESSIBILITY REQUIREMENTS AND REGULATIONS NOW APPLY TO WEBSITES.
AMERICAN'S WITH DISABILITY ACT (ADA) PENALTIES. LAWSUITS, AND FINES ARE SERIOUS.
This Short Video Shows How to Make your Websites Legally Accessible to Everyone and Protect You and Your Business from Discrimination Lawsuits
CLICK FOR MORE INFORMATION
IAG offers the world's leading solution for digital accessibility
Achieve accessibility compliance with the quickest and most cost effective method available anywhere in the marketplace today.
Using proprietary cutting edge technology, built with unique AI algorithms, we can help you make your website and all your digital content accessible
without modifying your code.
You simply insert one line of code and we will do the rest!

The Informargin solution we're offering you is the
same one selected by these global brands guaranteeing that
their websites meet ADA Accessibility Standards.

You won't make a mistake working with us.

Try Some of our Free Services.
​​​​​​​These are 100% on us!
Free Accessibility Widget
Our free accessibility widget includes:
Color, font, and cursor adjustments, highlighted links and headers, image descriptions, and a text reader! This is sure to get you started!
Get your FREE accessibility widget now
Not sure where to start? Submit your request for a one-on-one consultation with an accessibility expert to review your company's needs and provide you with the perfect accessibility suite.
Schedule your FREE consulting now.
Need a 100% ADA compliance solution?
Schedule a meeting and receive a demonstration of our full compliance solution. Our 100% solution comes with a $1,000,000 Guarantee.
Schedule your FREE demo now!

Click to connect with a specialist immediately.